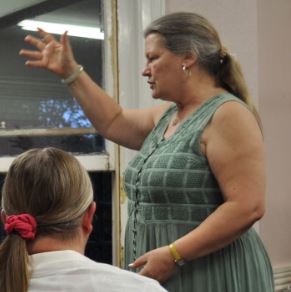 Yvonne Parker.
Sadly Yvonne passed away suddenly in December 2014.
Yvonne Parker brought her own vibrancy and passion for spiritual connection to the development group on a weekly basis, as well as running other tutoring groups such as Tarot, Runes, Magick, Bach Flower Remedies and Reiki.
The innovative way Yvonne helped each member of the group explore their individual spiritual connection, instilled confidence to try new ways of working with spirit, which was done at a persons own pace and without enforcement.
Yvonne worked on her own spiritual development with advance courses at                            Tony Stockwells Studio in Wickford, the last being a mentorship course which she passed with flying colours.
Yvonne is greatly missed. She is thought of with fondness and love every day.